3.4.1 Importing formats from a FrameMaker template
To import formats from a FrameMaker conversion template, check Import FrameMaker Template (or Import FM Help Template) in the Set Up dialog as shown in Figure 3-2, and browse to the location of the template file.
Figure 3-2 Import FrameMaker Template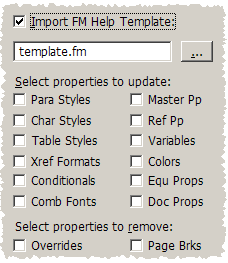 Mif2Go Set Up dialogs provide checkboxes for all the same properties as the FrameMaker Import Formats dialog. Some cautions:
• If you specify a template file, but you do not check any properties, all properties except Document properties are imported, and overrides and page breaks are removed.
• Best not to check Doc Props (document properties); a defect in FrameMaker can cause unexpected changes to document settings.
• The Comb fonts option stands for "combined Japanese/English fonts". Although Mif2Go supports Japanese on FrameMaker version 8 and later versions, checking this option can cause "template failure" on non-Japanese systems. If this happens, Mif2Go tries the template import again, without the Comb fonts option.
§2.4 Importing formats from a conversion template
§3.4.5 Understanding configuration settings for general set-up options
§30.7 Applying FrameMaker conversion templates
---
> 3 Converting a book or document > 3.4 Choosing project set-up options > 3.4.1 Importing formats from a FrameMaker template